We need a creative, talented, and motivated Graphic Designer. Check out our work. If you see the quality we put out and think you could do better, APPLY! We'll give you the opportunity to prove it.
How To Apply
If you feel like you fit the mold – FOLLOW THESE SIMPLE STEPS:
Please follow the directions. It irks me when people send me long emails expecting me to read them if they haven't followed the instructions for how to apply. 
Analyze the terrible graphic

of our "We're Hiring a Graphic Designer" ad below

Draft a single email to hireme@butlerbranding.com with the subject: "Hire Me! I'm a graphic designer."

 

In a few short sentences, explain why the hideous graphic on this job posting is bad (hint – go past just the obvious stuff)
Redesign the ad
Tell me about your graphic design specialty (what are you really good at)
Show me 5 samples of graphic design work that you've done
Explain what you like about them, and some of the logic that drove your design decisions (keep it really short)
Show me 3 examples of designs that are not from you, but you really love (the type of designs that you really appreciate) and explain why
Include your resume (I hope it's designed well)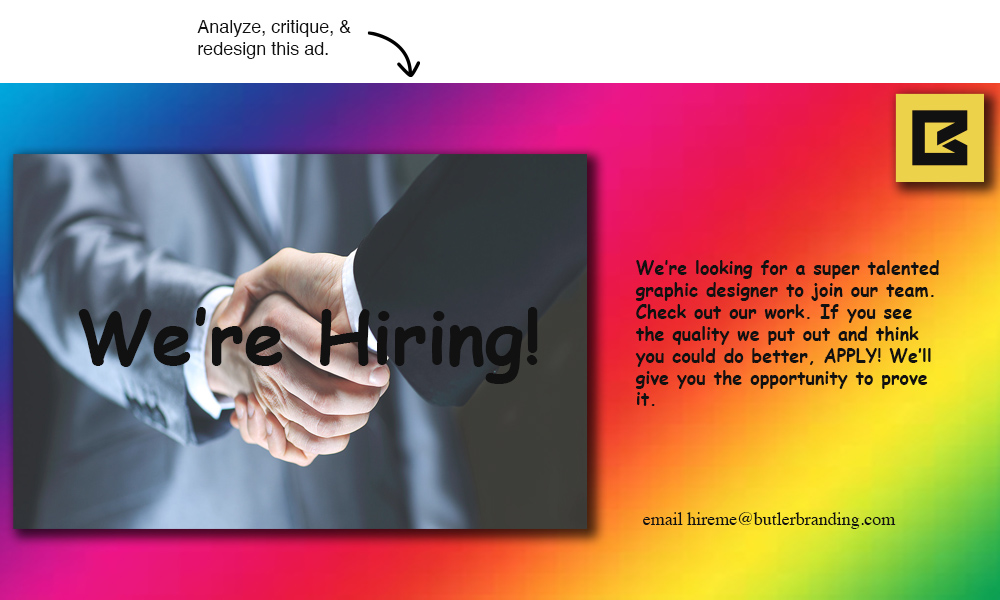 Minimum Qualifications:
2 Years' Experience
Adobe Suite: Photoshop, Illustrator, InDesign
Able to work and respond quickly during US(PST) business hours
An impressive portfolio
Things We'd Be Stoked About:
If you live in the greater Fresno, CA area
Illustration Design
These are not requirements, but they do add a cherry on top of the ice cream.
PART TIME TO START
We are looking for someone who can work part-time to start. Transition to full-time is imminent, depending on growth and ability to handle more work. Remote working options are available, but being in the Fresno Area and able to come into the office is a plus.
More Info
Butler is a full-service agency working in many different verticals. As such, our graphic design needs vary tremendously. We work on things like logos and brand identity, publication design, graphics for web and social media, billboard and print ad designs, custom vector illustrations, and more. We're looking for a graphic designer with some range.
SELF-SUFFICIENCY AND MOTIVATION
We work in a R.O.W.E. (Results Only Work Environment). Though we'll support you with the tools, training, and management you need to do your work, we won't micromanage you or hold your hand. We're looking for an amazing self-manager who can be responsible for not just getting content written, but getting it published and out the door. That requires a level of client wrangling and inter-team collaboration that the right candidate will be able to handle with ease.