At Butler Branding, we pride ourselves on going above and beyond to serve our clients, because we truly believe in their missions. Each day, when I turn from my computer to look out my office door, I'm reminded of both our client list and Butler's own mission statement: to Radically Serve those we work with, so they can achieve their goals.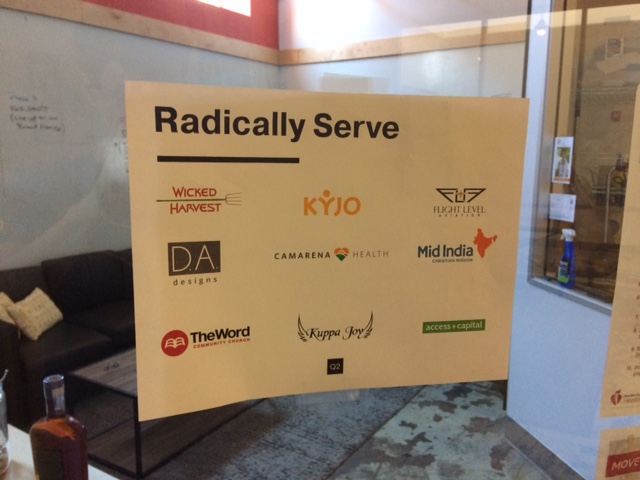 Because Radically Serving is Butler's fifth core value, and we're in the midst of our 2019 quest to actualize those values, we wanted to really "Wow" one of our clients this July. As soon as we realized which core value we'd landed on, and which month that value had landed in, we knew exactly what we should do to go even further for one of our clients.
Giving Our Time for a Great Cause
KYJO's Big B.A.N.G. Weekend is an annual event that allows hundreds of local kids to play football alongside NFL and Fresno State football players, at Fresno State's Bulldog Stadium. It includes both a Saturday football camp and a Friday night pre-game party at Dave & Buster's, which anyone in the community can attend to rub elbows with the players (literally, if you happen upon them at the arcade games).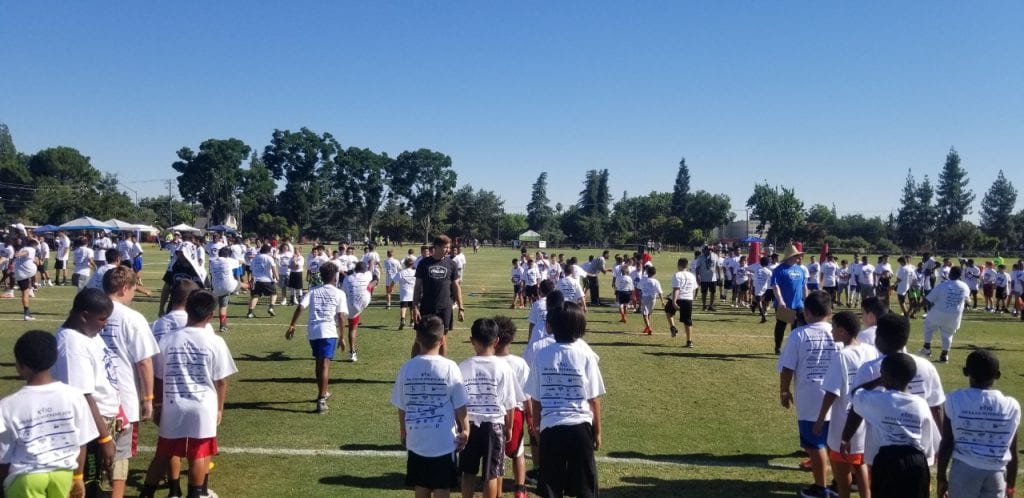 Big B.A.N.G. Weekend is KYJO's most important event and fundraiser, with all funds raised going toward KYJO's foster family agency and group home programs. So it's important that Big B.A.N.G. runs as smoothly as possible. We'd already contributed marketing efforts, graphic design, logistical assistance, and a whole lot more to Big B.A.N.G. Weekend as part of our ongoing partnership with KYJO. But there was one more thing we knew we could contribute to really Radically Serve KYJO: ourselves!
Volunteer assistance is crucial to pulling off Big B.A.N.G. Weekend – both the football camp and the pre-game party. As you can imagine, shepherding a bunch of NFL players, excitable children, and hungry parents around is a lot of work. Because we knew KYJO could use every additional volunteer they could get, we offered our assistance for either day, and we were recruited to help out at the pre-game party.
I Bounced Only One NFL Player, I Promise
Our help largely took two forms. One group of us manned the meal line, making sure those who approached had purchased a meal ticket (and directing them where to go if they hadn't). The rest of us stood guard at the entrance to KYJO's "VIP-only" event, ready to gently redirect anyone who attempted to enter without a wristband.
We may also have had …

… just a bit of fun.
Of course, the players who were running the next day's football camp didn't have wristbands (their VIP badges were on hold inside the event). And because I have not watched football regularly in at least seven years (go Pack go tho), I'm pretty sure I attempted to bounce at least one NFL player. However, I also got to shake hands with Cameron Worrell (who I recognized!) and walk him and his family back into the VIP area, so that was pretty sweet.
Overall, we had a great time helping out KYJO, and we hope we helped the Big B.A.N.G. pre-game party run a little smoother than it would've if we hadn't lent a hand. Of course, we also got our game on as the event was wrapping up, and I'll leave you with this fun loop of "DDR David," as we've taken to calling our webmaster …
Want to be one of the clients that we radically serve? Be sure to contact us – we'd love to support your mission just like we do KYJO's!