In addition to being Butler Branding's Digital Marketing Director, Art Zaragoza is – essentially – my roommate. Our shared office is where most marketing magic originates at Butler, as Art and I kick new strategies, jokes, YouTube videos, and client content back and forth.
As a result, interviewing Art didn't feel much like work. We talked about many of the same things we discuss each day, including marketing trends, the latest goofy campaigns that we love, and the ever-increasing reach of technology. But we also dove a bit deeper into Art's personal background, and how he ended up getting into marketing in the first place.
To start things off, I asked Art a question he both was and wasn't prepared for …
ML: So to describe your job at roughly the most basic level: How do you describe your job to your parents?
AZ: That's an interesting question. I don't know that my parents have a great grasp of what I do. It's one of those things where they kind of understand because they've seen things that I made.
I think it's a generational thing, right? Like, in the past, there was so much of an idea of "I make this thing, I do these things for work." So when I show my parents a website I made, they say, "Oh, that's what you do. You build things like that." They understand the concept of digital marketing, but I have to show them some of the things I've built inside of Google, Facebook, or these other things they're familiar with for them to really get it.
My Dad is a carpenter, so he builds things. He's a master woodworker; he's very much a handyman. So he gets the idea of building things and fixing things, because that's what he does. So that's how I explain it to him. He builds things physically, and I build things digitally.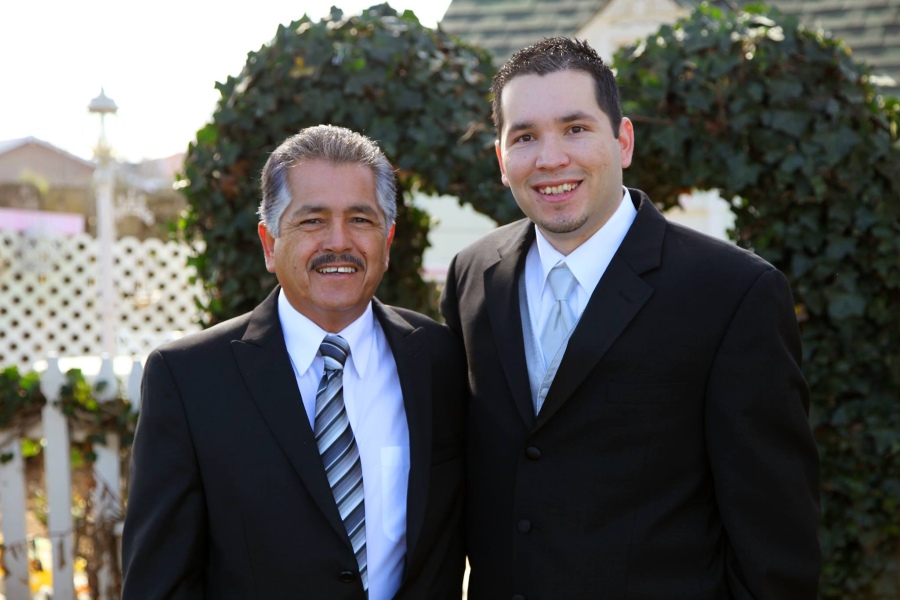 ML: I feel sort of the same way with my Dad, because he's a car guy. He has this shed behind our house where he's always working on his latest car projects. He does software stuff, too, so maybe he gets it a little bit more. But I still feel weird when I tell him, "Hey, I wrote this book – you have to go to Amazon and download it."
AZ: But that's part of marketing in general, right? You always have to know your audience. You have to know who you're talking to and the things that they're familiar with so you can talk to them on the right level.
I could totally just tell my Dad, "I help people achieve their KPIs and do X, Y, and Z." But I'd rather tell him in a way that he'll understand and that he'll get it immediately.
ML: So, working you up a level in describing what you do, how would you describe what you do to a potential client of ours? Someone who maybe knows what digital marketing is, and that they want to start doing it, but they're not sure exactly what it entails – or what the mechanics are.
AZ: For that person, I would start by saying digital marketing is basically the process of selling your goods or services on the internet.
Most people that come to us have at least a vague familiarity with the internet and how it works, right? Whether it's through using Facebook or Google or their own website. That's the level I start at, if I know nothing about how much the person knows about digital marketing. I tell them that we'll partner with them to help them promote their brand and sell their goods and services in those digital spaces.
But from there, I try to figure out how much additional context I do or don't have to provide. Some people know exactly what they want and what kinds of digital marketing they're interested in. Other people need more of an explanation of what it is they can do online.
ML: So that's the next question I had for you, because it's one we get all the time. Assume that you're meeting with a typical new client of ours, who is looking to start promoting their business or generating leads. What digital marketing channels are you going to start them out on, and why? And how does their budget factor into it?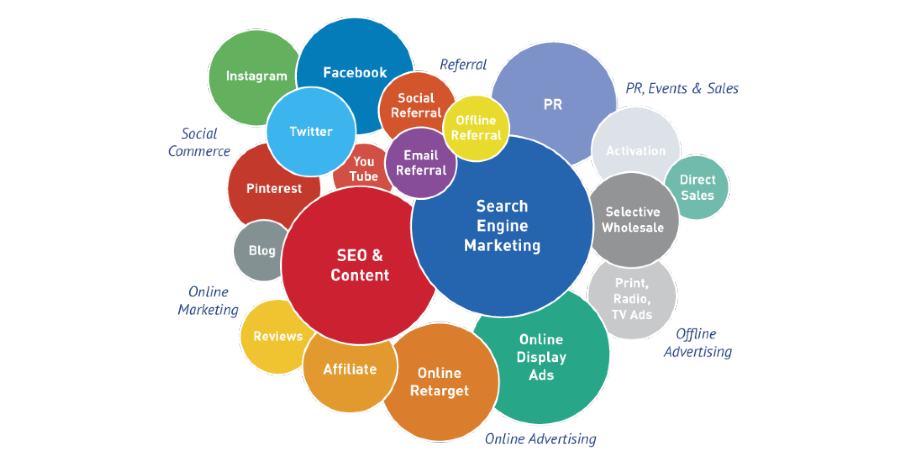 AZ: The first thing I do with anybody, whether they have $100 or $100,000, is take a listening posture. I want to figure out who they are, what they're doing, and most importantly, what their goals are. Because it could be that digital marketing isn't even the best avenue for them. Maybe their demographic doesn't actually live online, and more traditional marketing tactics would perform better.
I never assume, just because we primarily do digital marketing, that that's where a client needs to be.
ML: What's a good example of a time you had to push back in that way?
AZ: At a former agency of mine, we sold Christian cruises and tours. And the Christian world tends to be about five years behind everybody technology-wise. Things that you and I might take for granted were new and novel to some of the people we were working with.
ML: Which is kind of the same as what I was telling you about the comic book industry. It always feels like they're behind in adapting to new technology.
AZ: Exactly. But in our world, we also served clients who were very much cutting-edge and on top of things digitally. They primarily connected with their audience through digital means; they'd host things on Facebook Live and YouTube Live.
But even some of those clients still served a mostly older demographic. And those people didn't care about any of our automated email campaigns or funnels because they weren't going through them. These are people whose VCRs are still blinking 12:00, you know?
So while we could have built great Google and AdWords campaigns for those clients, where they're super-optimized and the SEO is killing it, those things wouldn't reach that audience. Instead, I wanted to figure out how we could better optimize things that we knew would actually work for those clients, and figure out ways to report on them and track them. Because I want to put money into things that are actually performing. I'd be a terrible marketer if that wasn't my overall goal, rather than just pushing digital because that's what I like.
ML: I know part of the reason we do push people toward digital marketing is because it's more trackable, right? We can see how many people came in, clicked your thing, filled out a form, bought something, all that stuff. How were you tracking the non-digital aspects of these campaigns you're describing? Because that's something I have less experience with.
AZ: That is one of the major things I really love about digital marketing, which is the proof you can show of how well it's working. People always talk about how they've done radio ads and newspaper ads and other things, and I always ask, "How do you know that they worked?" And people say they don't really know, they just heard that someone saw it or heard it.
I love being able to tell people, "You gave us this. We produced this. This is how much money it made you." But to answer your question, for example, if we did a print ad in a magazine or a direct mailer, one of the things we'd do is create a custom phone number or a custom URL that we could track. And only that campaign would have that custom phone number or URL, so we could track how many calls or inquiries came in via those things.
ML: So the same thing that podcasters are doing these days with the ads they include in their shows.
AZ: Exactly. Sometimes people would ask us to put a QR Code on these things, too, but usually we argued against that, since these were intended for an older demographic. But there were also times we tested it, because I never want to assume that my ideas are just the best. One of the things I love is A/B testing, where I'm testing one thing against the other to see which performs better.
But at the same time, people also come to us because we're experts in this field. We have years of experience and tons of data to draw from when we're making our suggestions.
ML: We consider ourselves experts in these fields, but like you said, we're always experimenting, right? What's some of the stuff you're experimenting with right now?
AZ: One of the things I always want to do is continue integrating new technologies into my work. For example, we're maybe already behind the times when it comes to writing our Google Ads to be optimized for voice search. So many, not even millennials, but people younger than them, are now searching via voice. The idea of actually typing something into Google is so foreign to them. They're like, "What are you doing? Are you texting somebody?" And it's like, "No, no, no, I'm Googling something."
So we need to be thinking about how people are searching for things. And if we're not writing to catch those searches, we're missing a large market – especially if we're aiming at a younger demographic.
We need to make sure we're writing content that's optimized for both voice search and actual web search. Because we want to make sure our content hits the right people at the right time. Otherwise, we're falling behind.
Also, personalization is massive, to the point where it's become a buzzword in the industry. Some people think it just means adding something like a merge tag to an email, so it includes the reader's first name. But to me, it's about figuring out who the person you're talking to really is, and customizing your message for them.
Spotify did a really great campaign where they took a bunch of their user data and turned it into a fun, tongue-in-cheek marketing campaign.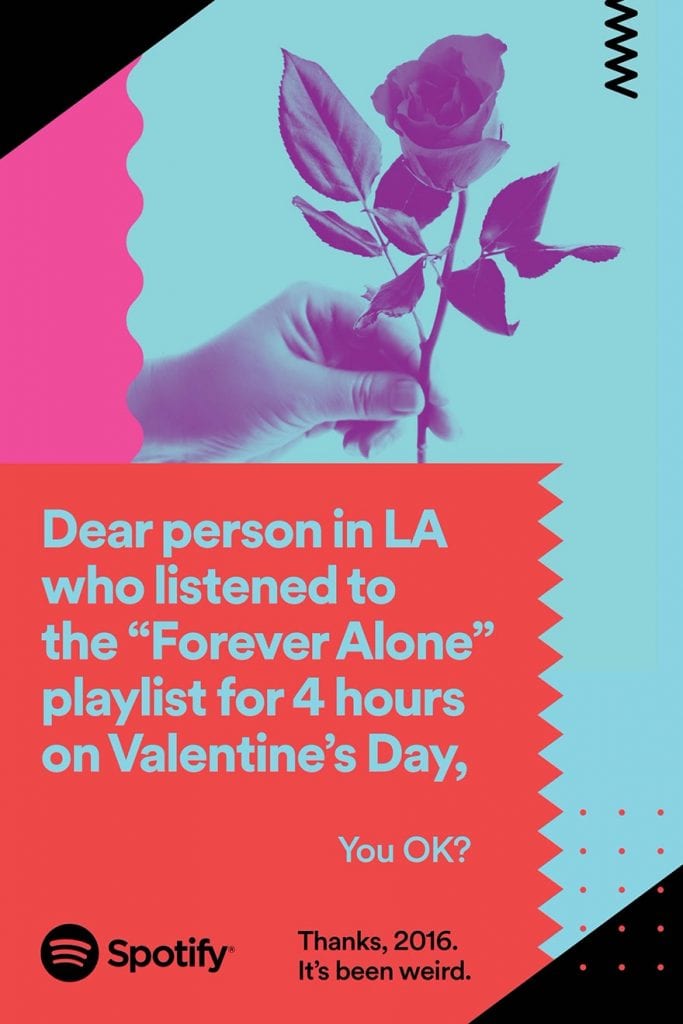 ML: Oh, yeah, those cool building-sized ads you were showing me where they would say something like, "Hey Nathan, you didn't have to listen to this sad song 95 times. We got you, bro."
AZ: Yeah, it's that type of thing where they've really turned a corner and now they're using all that data in really fun ways. And producing stuff that's catchy and says, "Hey, this is who you are."
ML: So two jobs ago, when I was working for a medical software company, we were just turning that same corner. We had this system that people were dumping a bunch of health-related data into, and we wanted to pull that data out and do meaningful stuff with it. Digital marketing's now entering that same era.
AZ: Actually, I think marketers were some of the first ones to start using the data that's inside these databases. You've probably seen how on Mad Men and other shows like that, they're always creating these fake customers. "This is Steve. He's a 36 year old dad, and he likes grilling on the weekends -"
ML: Which is something we still do all the time, right?
AZ: Right. But digital marketing and all this new data allows us to take that process a step further and say, "This isn't just this person. These are his known habits, and his known traits, and there's some predictability here."
ML: Essentially, we're making less stuff up. We're using actual data that's coming into these systems we create.
I know our users, because I interact with the people who come to us needing our services. But that isn't the same as actual data, which is what we have now.
AZ: Yeah, it's not guesswork anymore. It's not, I think this is our target market. We start by tailoring our message toward who we think is our target audience, but then we track how things perform after we've launched them. And we can see what converts and the money that things are making. We can prove that, and if we see a subset of our campaign that's working, we can expand our spend and reach in that area.
That's much more powerful than just putting together a user profile.
ML: I'm still thinking about what you said about voice search. I don't search by voice, and I likely never will. But I do tailor my writing for voice search. I write toward the phrases I think people are going to use. But I also have that running concern of, "Am I too old for this?"
AZ: (laughs) That's the running question. I ask myself that every day.
You always have to be careful … I don't think voice search is a fad. There are so many things like this that are fads, but –
ML: Voice search is just easier, and people always do the thing that's easier.
AZ: They're always going to lean toward convenience. Always. And I think people now are over the idea of looking odd when they walk by talking into their phone.
ML: We've got Naaman walking around our office talking into his Bluetooth headset all the time. And I'm like, "Naaman, who are you talking to?"
AZ: (laughs) Exactly. That's just it, though. It's generational and it's kind of like creature habits. If everybody's doing it, it's no longer weird. That's the way the world is shifting, and we either catch on or we fall behind.
I read this article about how people learn nowadays. I think they called their take "The Bar Theory." Because back in the day, if you were sitting in a bar and someone asked you who was the 22nd President of the United States, you used to have to retrieve that from memory. Now, you open up your phone and search Google and there it is.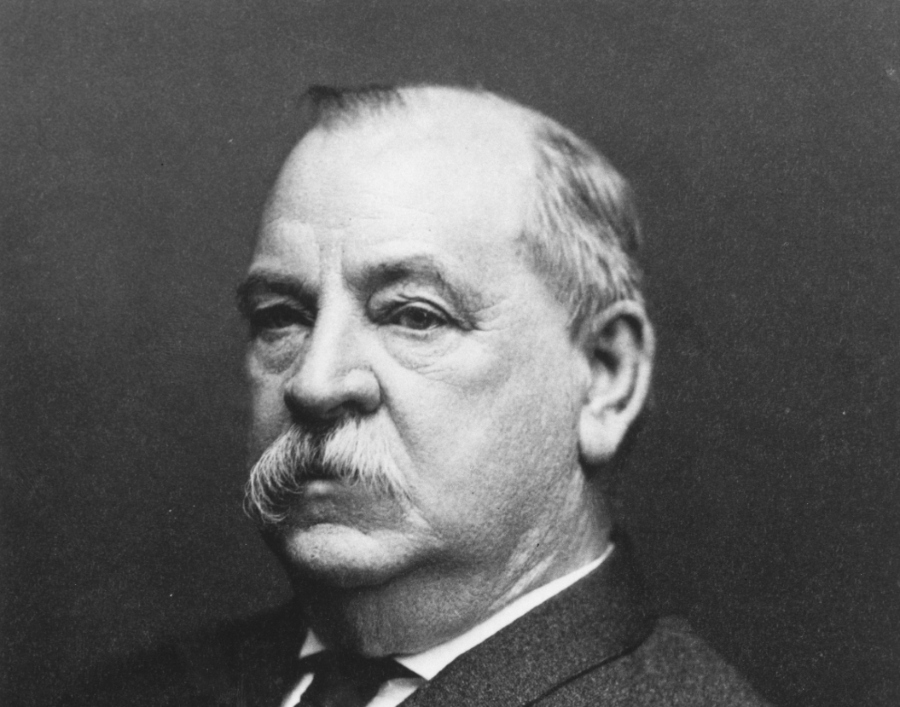 So people don't learn anymore; they just consume information.
ML: Maybe the person you told it to now knows the answer, but you looked it up and you're done with it.
AZ: I kind of put things like voice search in that category. It's a new thing; it's a new way of accessing information. The answer's the same, but the way you find it is different.
You never exactly know when those types of new things are going to catch on, so you have to be ready. But voice search is definitely a thing. It's growing over time.
ML: My brother- and sister-in-law have an Alexa, and their kids love using it. A friend of mine in Wisconsin, who is not incredibly techy, has become a proficient Google Home user in the last year. That's anecdotal data, but I think we're all seeing these things pop up more and more.
And you and I are similar, in that we're not tied to doing things the same way just because. We want the stuff we do to work and get results.
AZ: We have a Google Home in our house. And my two boys only know, "Hey, Google, find me this thing." Because they can't read or write; they're little.
We were laughing the other day because my youngest is two, and he's learning new words all the time. He just said Google for the first time the other day, because he wanted the Google Home to play a song.
ML: This might not make the transcribed interview, but does that terrify you or excite you?
AZ: Both. (laughs) No, it's one of those things where, as a dad, I've shown him how to access this thing that will tell him whatever he wants it to. Right now, his voice is so little that it doesn't always pick him up, which is nice.
I don't know what the world's going to look like in twenty or thirty years, but I also know that when I grew up, my parents wouldn't let a computer into our house. I didn't have a Playstation until I was a junior or senior in high school.
ML: Same.
AZ: My parents still to this day don't have cable. They were always averse to those things. So when I had to interact with technology, there was always a learning curve for me.
So I'm kind of excited that my kid's already used to these things. You should see him on my phone. But it also freaks me out, because there's a part of me that thinks that, as a two year old, he shouldn't be that technologically advanced. I'm not sure Google should be my two year old's fiftieth word. He still has trouble with the word red. But he also gets so much joy out of it.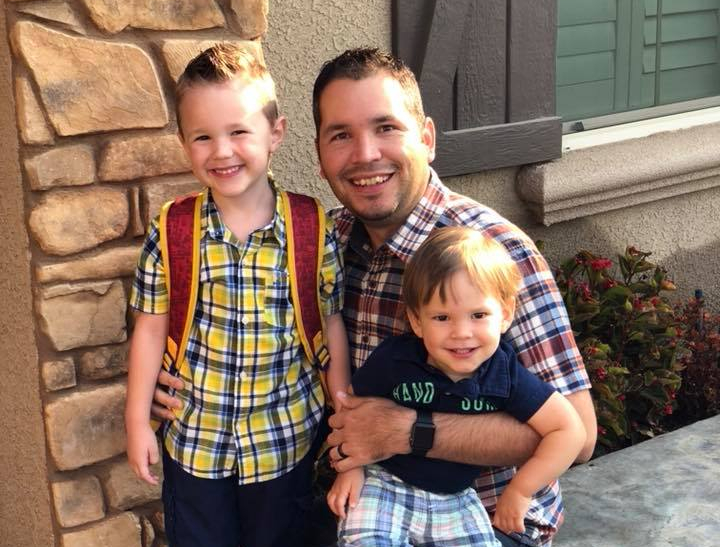 ML: So how did you decide to go into marketing in the first place? I know we've talked about how, for you, a lot of it was about marrying the different disciplines you were interested in. That it stems from your love of numbers and analytics and your love of being creative.
AZ: I do think that was it. I love being creative, and I never really had that outlet in school.
My favorite movie of all time is Top Gun. So I always thought I was going to be a pilot. My Dad was in the Navy; I had my pilot license. And everything I did in school was geared toward engineering and technology. I was on a special career track in high school just for that.
But when I was a senior in high school, I said, "Shine that noise." I didn't want to be a pilot anymore, because there were a lot of things I wasn't willing to do.
So marketing was this whole new world that I was attracted to because the things within it were still being formed. And I love being a part of things that are still being formed, because you can shape those things as they're being created and help to create something awesome. I love creating awesome things. That just motivates me. Making sure all these things are working together across all these different platforms and they're all plugged in, in a way that's also creative and beautiful, that kind of process still motivates me. It's what attracted me in the first place, and it's still what attracts me today.
ML: I feel like that's the end of the interview.
AZ: I feel like that was such a Miss America answer, though. Like you asked, "Art, the world is hungry. How would you solve that problem using a marketing algorithm?"
ML: Okay, so then my actual last question for you is this: What do you wish people understood about digital marketing that they don't?
AZ: I kind of have two answers. The first one's not really related to digital marketing, specifically. It's related to messaging and brand positioning.
First, you really need to understand who you are before you start marketing. So many times, people will run off to create a Google Ad or some other marketing thing before they know what they actually want to say or accomplish. They just want to sell something, and they see other people selling their things online. So that's where they go, too. There's no real rhyme or reason to their choice.
ML: And to just do it is actually surprisingly easy. I could spin up my own Facebook ads in the next half hour if I wanted to. But they likely wouldn't do anything for me, unless I put a bit more thought into them.
AZ: 100 percent. And honestly, it's kind of like, you pull at the lever – and something comes out. Facebook and Google have made these things as easy as they can to start using. You can plug in a picture and a sentence and point the ad to your website and that's all you have to do.
And then they show you that, if you plug in $50, you get some results. So you plug in $100, and you see that you got more results. You're meant to think, "Wow, that's even better." But it's not, necessarily. You just gave Google or Facebook more money.
ML: And we actually want to give them less money.
AZ: We want to give them less money and still see better results. That's always the goal: More with less.
So the one thing I'd encourage people to do is to sit for a minute and figure out what they actually want people to do before they start any marketing. It's really worth it to take the time to figure out your goals and how to achieve them before just jumping into the pool.
The other thing I would say is that digital marketing in and of itself is never the answer. It's part of the answer. What I mean by that is, people will often put all their advertising eggs in one basket based on what they're read or heard. Whether it's Google or Facebook or some other channel, they're putting all their money in that one thing.
But if that thing doesn't work, you're stuck. None of these things are silver bullets. If they were, everybody would be using them and killing it. So you have to have a system, not just one thing, a system that will get you the results you're looking for.
And it's not just a set it and forget it thing. There's constant monitoring and tinkering involved after launch, making sure none of your automations have fallen off and all your systems are working together. You can just put money into these systems, and you might get something. But you might not get anything, or you might not get the right things.
ML: You and I really want people to actually DO something specific when they visit a website, right? If someone comes to us and says, "I want more traffic to my website," our response is always going to be "Great. What do you want those people to do after they get there? What's the end goal of getting those people there?"
AZ: It's that "Why?" And that "Why?" might be one answer, but it might take us six steps to get someone there. It might be, we showed you something on Facebook that you downloaded, so now we have your email. So now we can send you an automated email that includes more information or a discount, so now you'll buy our thing. You may have not known who we were four days ago, and you definitely wouldn't have bought our thing then, but now you will. Because we created a relationship with you.
It's stuff like that, which people don't often realize we can do and is a bit more than just creating an online ad, that I wish people understood more clearly. When people say they want to do digital marketing, they often just mean they want to make an ad that people can click and buy their thing. But there's so much more to it than that. And it constantly changes.