If you paid attention to this year's pre-Super Bowl advertising, you surely heard the news about Mr. Peanut:
At 104 years old, the beloved snack food icon died in a fiery car crash that was (at least before the big game) this year's most talked about Super Bowl stunt. According to the folks at Vulture, Mr. Peanut's death was inspired by Iron Man's demise in Avengers: Endgame – a link that definitely makes a certain amount of sense.
But while the team behind Mr. Peanut's passing says they were inspired by the death of Iron Man, the Death of Mr. Peanut reminded me of a much older comic book stunt – the 1990s' Death of Superman. If we assume that Planters' Death of Mr. Peanut campaign was successful, I think the Death of Superman and its fallout can shed some light on where brand storytelling is about to trend in the near future – and what to expect from other brands with aging icons.
Death = Publicity Is Not a New Idea
Back in the 1990s, big comic book superheroes didn't die every other month. So the seemingly-permanent death of DC Comics' flagship superhero was big news, earning mainstream media coverage from outlets like Newsweek, People, and Newsday. DC's sales skyrocketed as a result, with tons of people who didn't typically read Superman running in to comic book stores to buy what seemed like a surefire collector's item. According to Wikipedia, Superman #75, the issue in which Superman "died," sold over six million copies – a sales number that's unheard of in the current comic book industry.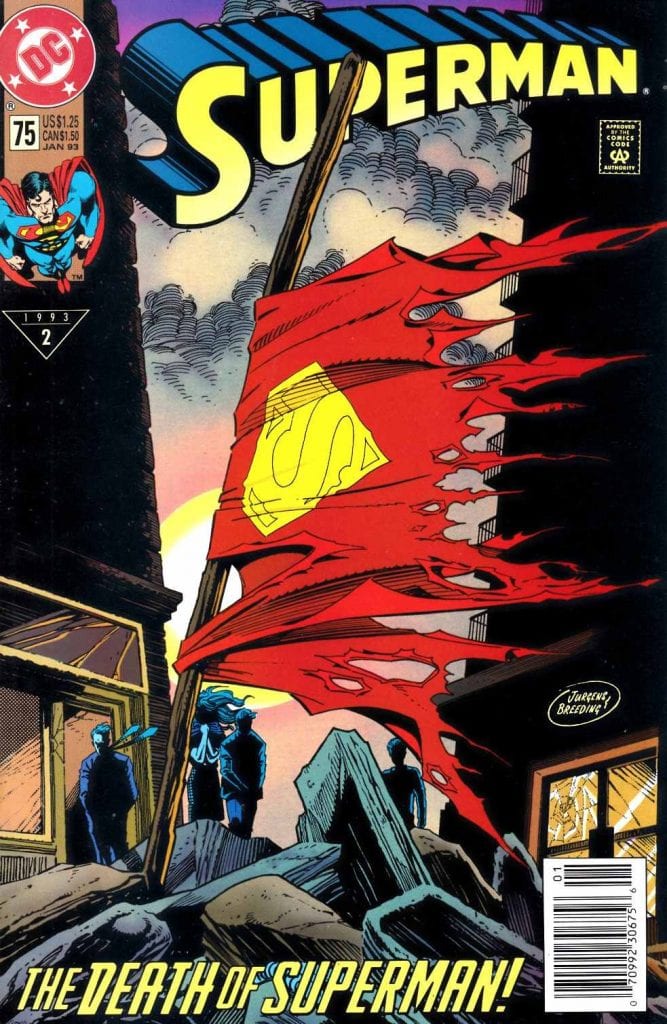 But while those outside the comic book industry expected Superman to stay dead, the writers and artists working on Superman comics knew the Death of Superman was just a stunt. (In fact, it was a stunt designed to buy time for another, completely different stunt that was coming down the road.) But when the Death of Superman became DC and Superman's biggest story to date, DC couldn't help themselves. They attempted to replicate their success.
Throughout the rest of the 1990s, Batman, Green Lantern, and Wonder Woman all starred in similar "career-ending" stunt stories. Each provided DC with diminishing returns, but by then, the cycle of mainstream superhero deaths and rebirths was firmly established. At one point in 2011, Marvel Comics even stated that they were going to kill a star character every quarter, solely for the sales bump they knew would result.
Now, in 2020, comic book superhero deaths have been played out as both stories and marketing tools. The writers and artists behind these stories know the trope is meaningless, because fans and media outlets know how the trick works (it's one of the reasons the X-Men can now resurrect themselves on-demand). In comics, there's no pathos left to be mined in the "death and rebirth" cycle that began with the Death of Superman.
So What Does This Mean for Mr. Peanut and Other Brand Icons?
But as we've seen with the ever-increasing popularity of Marvel movies and DC TV shows, what's played out in comic books is not played out everywhere else. It's unsurprising to see a mega-popular story like Avengers: Endgame affect brands' storytelling decisions, because Marvel movies loom so large in our collective consciousness right now.
What's absolutely fantastic is that the Death of Mr. Peanut managed to adapt the "death of a superhero" storyline in a way that worked for a brand mascot – and that actually drew attention from mainstream audiences. Just as Batman, Robin, and Wonder Woman gathered to mourn Superman's death in the '90s, brand Twitter gathered to mourn Mr. Peanut's passing. The mainstream media also picked up the story, thanks in no small part, I'm sure, to how wild it seemed. After all, brands don't kill off their mascots every day.
Or at least, they didn't before this. But now that Mr. Peanut's death has drawn so much attention, I wouldn't be surprised to see other brands attempt to replicate Planters' success – just as DC and Marvel attempted to replicate the success of the Death of Superman. The Death of Our Brand Icon is a storyline that's now available to any brand with a mascot that's been around long enough to have built up some goodwill and a Twitter following. And if the comic book industry's fascination with death and rebirth is any indication, you can expect to start seeing more beloved brand icons bite it later this year – until the trope runs its course in the world of advertising, too.
In the meantime, I wouldn't be surprised to see Mr. Peanut himself come back in some form very soon (there was no body shown when Mr. Peanut died, and every comic book fan knows what that means). But what I really want, more than anything else, is the event that followed the Death of Superman applied to Mr. Peanut. Because, for me, nothing would ever be able to top the Reign of the Mr. Peanuts:
Planters ad executives, I'll take my check by mail or PayPal, thank you very much.