Our YouTube followers demanded it, so here it is. In the series of videos below, Butler Branding CEO Sean Tambaghan breaks down everything that goes into building a new client's brand identity system – from onboarding the client to presenting the final product.
Uncovering the Client's Needs and Pain Points
Well before you start thinking about how to redesign a client's logo and brand identity, you need to learn the client's story.
"This client, Fresno Rescue Mission, was working with another agency," said Sean. "And the problem was that this agency promised three updated logo concepts, and after rejecting that agency's eleventh concept, the Rescue Mission started looking for another agency. So I said, 'Okay, I think it'd be good for us to have a sit-down.'"
Sean sat down with Fresno Rescue Mission's CEO, Marketing Director, and Programs Director, and he quickly learned why the client's previous agency had so much trouble designing the Rescue Mission's new brand identity.
"Usually when an organization decides to rebrand, there's underlying reasoning behind that decision," said Sean. "So at that first meeting, I just asked a ton of questions about the organization. And I learned that their current needs and pain points went beyond some aesthetic updates."
Sean heard that the Rescue Mission had grown a lot in the last few years, without properly communicating that growth to its audience. And while their old logo was a bit dated, what they really needed was a brand identity system that spoke to the many new services Fresno Rescue Mission offered.
Listen First, Design Later
Sean listened to everything that the Fresno Rescue Mission team had to say, and only then did he start explaining about how Butler Branding could solve their problems.
"In that first meeting, I shared our approach with the client," said Sean. "Our process always starts with Discovery, which is a half-day facilitated session where I walk through a variety of exercises with the client's key stakeholders. And the goal is always to just learn about the organization, and then use the insights we gather from Discovery to create a strategy."
Extracting a Client's Brand Strategy
After explaining our process and securing the Fresno Rescue Mission team's buy-in, Sean scheduled the Rescue Mission's half-day Discovery session.
"Before the session, I sent the Rescue Mission team an email explaining how Discovery works and what our next steps were. And I knew they were going to have to send this out to other stakeholders in their organization," said Sean. "Eventually, I realized they were going to have about fifteen people in the room for our Discovery session."
Due to the size of the Rescue Mission's organization, their Discovery session was set to be our largest one to date.
"Just knowing that they wanted fifteen people there reinforced, for me, why the Rescue Mission was so hesitant to keep working with their previous agency," said Sean. "Because none of these fifteen people had input on the previous rounds of designs. That's why they had a lot of hesitation and pushback to what they saw."
Each of the fifteen stakeholders who attended the Rescue Mission's Discovery session had key information to impart about their organization – information that the Butler Branding team would need to keep in mind when designing Fresno Rescue Mission's new brand identity.
The Importance of Structuring Discovery
After prepping his slide deck and Discovery exercises, Sean led the Rescue Mission team through their Discovery session.
"If you don't have a structured framework for Discovery, especially if you have fifteen people gathered together in one room, you're just going to have everybody saying whatever comes to mind," said Sean. "And it's going to be really hard to get anything useful out of that, even if you get a ton of valuable information. Which is why I make sure we go through a structured framework, and I always give some introduction to the process before we begin Discovery."
After four hours of insight-revealing exercises (some of which you can see here), Sean extracted all the information that the Butler team would need to design Fresno Rescue Mission's new brand identity.
Handing the Design Project Off to Our Team
After compiling and condensing the Rescue Mission team's insights, Sean began the process of handing the Rescue Mission's brand identity design off to the Butler Branding team.
"When it comes to designing a brand identity system and a brand strategy, we have a list of tasks that we know we're going to have to do," said Sean. "So we assigned out all the tasks, and my team was ready for this project to begin."
In our internal review, Sean walked the Butler Branding team through Fresno Rescue Mission's story and needs – as well as the deliverables the client would receive.
At Butler Branding, Brand Identity Systems Include:
Logo designs and stylescapes.
Brand messaging.
Marketing strategy.
Website wireframes and homepage design.
"Whenever we create a brand identity system, my team develops a strategy that speaks to the messaging, the marketing, the user experience, and the design," said Sean. "And some people might say, 'Wait, I thought you were designing a brand identity system.' Well, when we do a brand identity system, that includes brand strategy – which always includes messaging, marketing suggestions, and some user experience-related designs."
After a round of internal revisions, Sean was ready to present Fresno Rescue Mission with their new logo and brand identity system.
Presenting the Client's New Logo and Brand Identity System
After refining the Butler team's deliverables and packaging them together, Sean presented our work to the team at what would now be known as Fresno Mission.
"I presented to the exact same fifteen people that were in that initial Discovery session," said Sean. "During the first half of that meeting, I reviewed their Discovery notes with them. Then I walked them through all four areas of their new brand identity."
While the Mission's team had some initial thoughts, Sean asked that they also take the time to review Butler's work over the next three days. Then, he led a follow-up call to receive the Fresno Mission team's detailed feedback.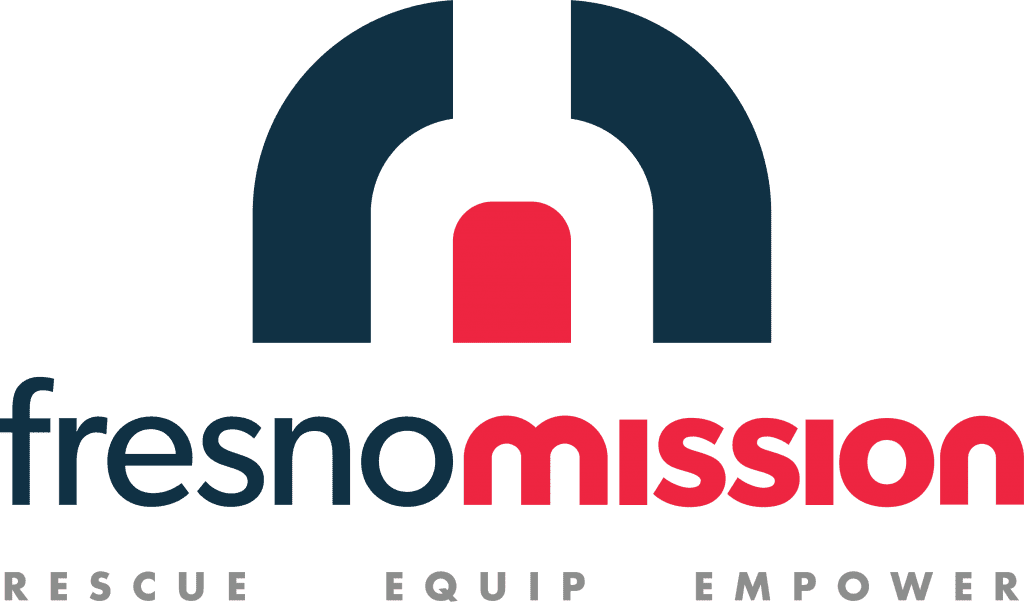 "They chose a logo, and then they said that they wanted to present it to their board," said Sean. "So that was the final test. They wanted me to show that design that they'd chosen to their board of directors."
The Final Test for Fresno Mission's New Logo
Sean presented to Fresno Mission's board – and was met with silence. But after worrying for just a bit, Sean received an email from Fresno Mission's CEO, saying that the board loved Fresno Mission's new logo and brand identity.
"And I was like, 'Yes!'" said Sean. "I breathed a sigh of relief."
Sending Off Fresno Mission's Brand Identity System
At that point, all that was left to do was to give Fresno Mission all the files and assets they needed to share their new brand identity with the world.
"Our brand style guides include everything – including the new logo and variations in every format the client might need, information on the colors and typography we used, additional design elements, stationary materials, and everything else," said Sean. "That, plus the strategy documents, is it – the entire brand identity system."
We hope you enjoyed this in-depth look at how (in just one month) Butler Branding creates a client's brand identity system – and if you want to learn more, be sure to leave a comment here, on our Facebook, or over at our YouTube channel. We love talking about our process and our designs, and we'll be sharing more deep dives into Butler's work soon.