Here at Butler Branding, we get a lot of phone calls from business owners who have been told they need a website … but don't really understand why. They "know they need to be online" or "want to be found in Google." But they don't understand the mechanics of how "being online" actually works – and they don't know the other benefits that a well-designed website offers.
If designed correctly, your business's website can be much more than just a placeholder for Google Business and search engine results. It can:
Attract people to your business.
Shape their first impressions.
And allow them to learn more and engage with you.
That's why we put so much time and effort into strategizing what our clients' websites are going to say and look like before we put a finger to the keyboard. User experience can make or break a website – and determine whether your website actually helps your business.
If your website hits the top of search engine results, impresses users, and helps them find the information they need, those users will be more likely to do business with you. If not, you've lost an opportunity to grow your audience or make a sale.
Below, we'll explain how a well-designed website attracts users and drives engagement. And by the time we're done, you'll understand why you need a website for more than just "getting found in Google."
Your Website Controls How You're Found Online
A basic website allows users who already know about your business (think people who have seen an ad and then search your business's name) to find you online. A great site allows users who have never heard of your business to find you online – and it controls how you're found.
This is what people are talking about when they talk about SEO (or Search Engine Optimization). A properly-SEO'd website will show up in users' search results when they search for the product or service your business offers, as well as information related to your industry. For example, if you type "web design fresno" into Google, notice where and how we show up: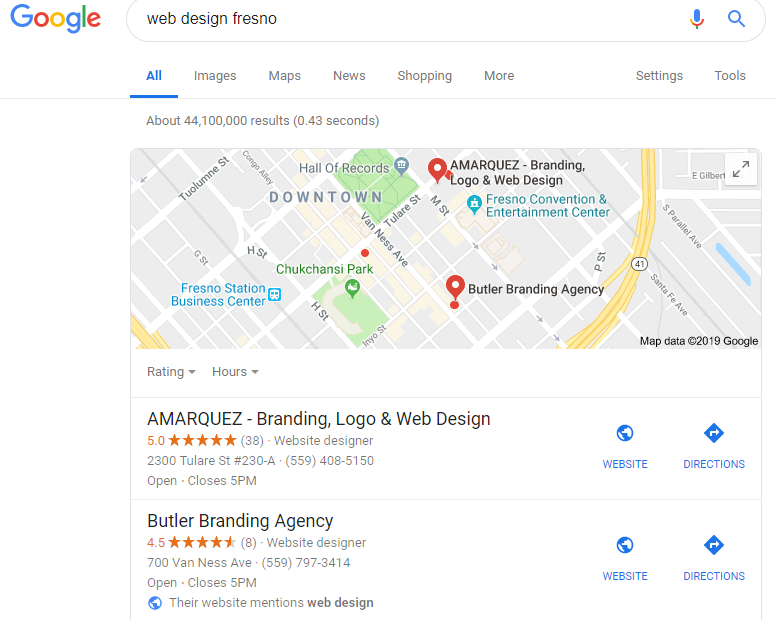 We show up near the top of these results because we've made sure to mention "web design" and "Fresno" throughout our site. We've also built individual pages for each of our services (including web design), to help us rank higher in search results related to those services.
However, SEO works only if you know how and what you want to optimize for. We know people are searching for "web design" and "website design" in Fresno (it's possible that's how you found this very article). So we tailored our website toward those searches and related ones.
When you're thinking about your business's website, be sure to consider what search terms you want to be found for online. Then, make sure your website designer incorporates those terms (and related ones – there's a lot of power to ranking for more specific terms) into your site. Your designer should also use an SEO tool or two (we like Yoast) to help boost your rankings. That way, people who have never heard of your business will start finding you online.
Your Website Shapes Your Audience's First Impression
A great website not only attracts your audience, it keeps them coming back for more. We've all seen examples of poorly-designed and un-useable websites. These sorts of websites actively hurt the businesses that they're attempting to promote: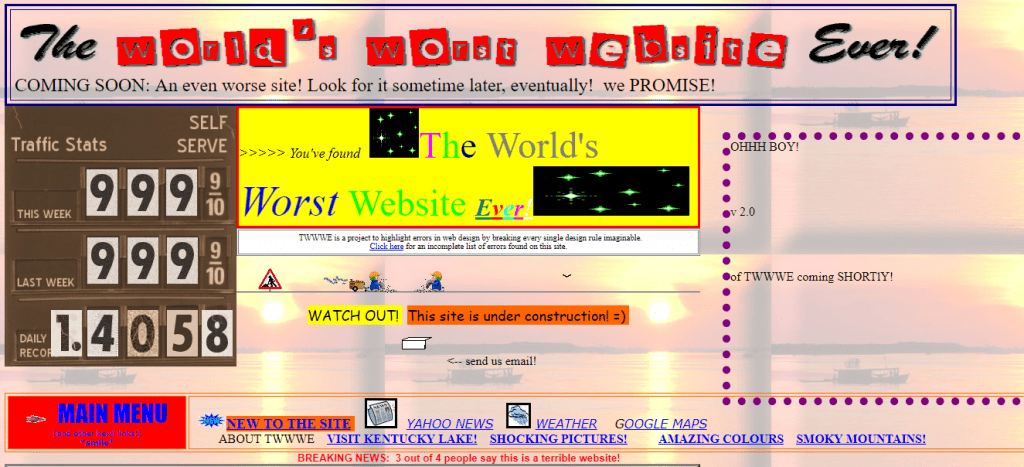 As a user, I know that I have no patience for poorly laid out or mis-designed websites. I also know that when I stumble upon a website that's both visually impressive and easy to navigate, I'm grateful to the internet gods. In my moment of gratitude, I'm way more likely to spend time learning about (and spending money at) the business I've stumbled upon.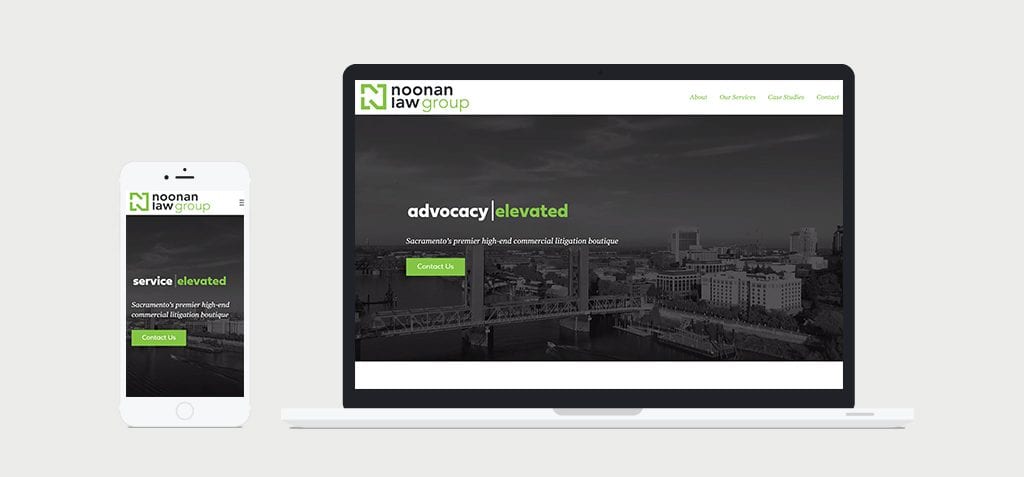 Now, there are principles that guide most of our website designs here at Butler Branding. We like to lead with a stunning hero image or short video banner, as well as a business's tagline. Then, we stack the website's navigation menu atop that image/tagline combo, and we streamline the menu as much as possible.
Streamlining your website's nav menu allows users to dig through your site without feeling overwhelmed. You might think you benefit from listing all your products, services, and other info on your home page. In theory, users would then be able to learn everything about your business from one page.
Instead, we know that showing too much information on one page overwhelms users. When presented with fifteen menu options and a novel's worth of homepage text, people bolt. Listing everything on one page also confuses search engines, which are looking for specific keywords and search terms when assembling search results.
A well-designed website uses its initial visual real estate to create a compelling first impression. And then, it allows users to learn more about your business at their leisure.
Your Website Acts as a Digital Storefront, Hub, and Lead Generator
As users learn more about your business, they'll hopefully be convinced to stop by your physical store, give you their email, purchase your product, or do whatever it is you want them to do upon reaching your website. And that's the third benefit of a well-designed website – it converts users into leads or customers without any effort on your part.
A business with a well-designed website is always open and always marketing. And they're not only more likely to attract new leads, they're more likely to convert them into new customers or volunteers or audience members. If you put your website to work, it can be a place where users submit their contact information to learn more about your business, make purchases, and even interact with each other to create a community around your brand.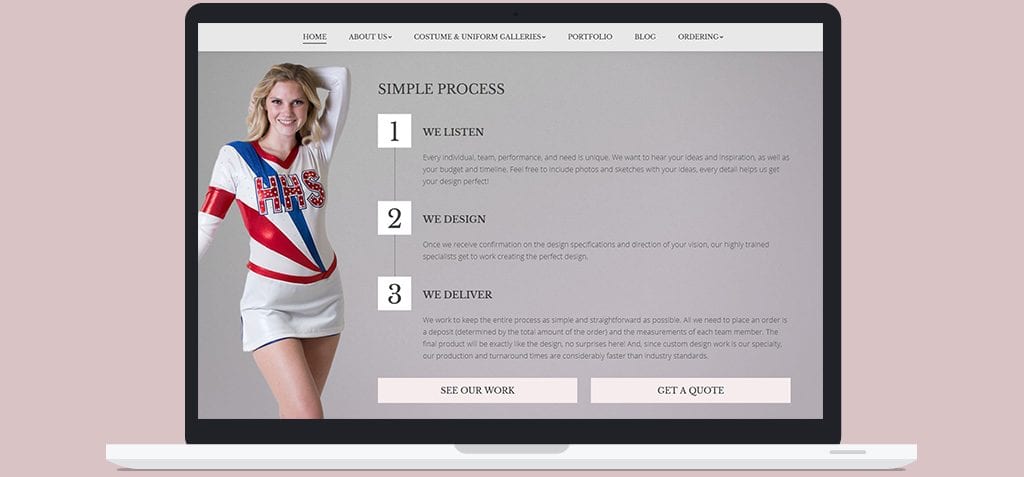 So yes, listing your business's name, services, hours, and contact info on a webpage is enough to help people find you through Google and other search engines. Those people will be able to see your basic info and get in touch with you.
But a well-designed website is more than an infodump. It's an engaging, exciting extension of your business. It's a full-on digital location, complete with customer interaction.
We hope you've learned why creating a business website is good for more than just "getting found in Google." And we hope you've learned that you shouldn't just throw up any old website! A well-designed website can extend and enhance your business – while a poorly-designed one can actually drive users away.
If you're looking for someone to build your business's website, we'd be more than happy to help! Be sure to check out our work and then, if you like what you see, contact us to get started on your business's well-designed website.