S.W.O.T. Analysis
Knowing where you fit in the marketplace.

What is S.W.O.T.?
A S.W.O.T. analysis is an exercise to help brands get a birds-eye-view of where they fit in the marketplace. S.W.O.T. is an acronym for Strengths, Weaknesses, Opportunities and Threats.
Strengths – Pat yourself on the back a little (not too hard… you might get bruises). What are you doing well? What sets you apart from the competition? What is your unique value proposition?
For a small, family owned local hardware store their strengths might include expertise, above-and-beyond customer service and a tight-knit community.
Weaknesses – Be honest with yourself. Where are you lacking? What are others doing better than you? What are some limitations holding you back?
Using the hardware store example, a weakness might be limited inventory that a Home Depot or Lowes might have. It also might include a minimal marketing budget.
Opportunities – What are some emerging needs, or underserved markets you could focus on? What unique connections do you have? What do you see as an open door that no one else is walking through?
A local hardware store owner might have the ability to make close relationships with other local businesses, contractors and developers where the big chain stores won't have that local buy-in.
Threats – What scares you a little bit? Who are the up-and-coming competitors? What negative press is your company or industry facing? What regulations or changes in the industry are negatively affecting you (or have the potential to)?
Maybe there is another small, local hardware store on the other side of town that has the potential of taking some of your business.
S.W.O.T. For Brand Strategy
Conducting a S.W.O.T. analysis is a super helpful tool I use for Brand Strategy. At Butler we conduct a S.W.O.T. analysis during Discovery Sessions with our clients because we need to know what, exactly, we're going to be branding. We need to know who we're competing against, where we fit in the marketplace, what our unique value proposition is, what opportunities we can capitalize on, what weaknesses we need to leverage, and what threats we must be mindful of.
All of this should be taken into consideration when planning our marketing and branding efforts.
How to Conduct a S.W.O.T. Analysis
To conduct a S.W.O.T. Analysis, draw a grid with 4 quadrants, each representing one of the words of the acronym. Fill up each quadrant with things that come to mind for each category.
Conducting a S.W.O.T. analysis is super helpful in gaining a birds-eye-view of your company and where it's positioned in the marketplace. S.W.O.T. is helpful for gaining clarity, but what you do with clarity is what really counts. In short, you want to lead with your strengths, leverage your weaknesses, seize opportunities and mitigate threats.
Again, using the local hardware store example:
We may lead with our strengths by positioning ourselves as the local, trustworthy, personable solution. We might do this by showing authentic photography of our in-store team working with real customers from the community. We might have a marketing tagline like "skip the long lines and poor service… speak with local experts today". Our weakness of having a minimal budget would need to be leveraged by thinking of creative, non-traditional forms of marketing. If there's an opportunity to build close relationships with other local businesses, maybe we could incorporate a marketing strategy where we host events featuring them. If we see the threat of up-and-coming competition, we have to be mindful of continually differentiating ourselves… when we see them zig, we zag.
Download the S.W.O.T. Analysis Worksheet for Free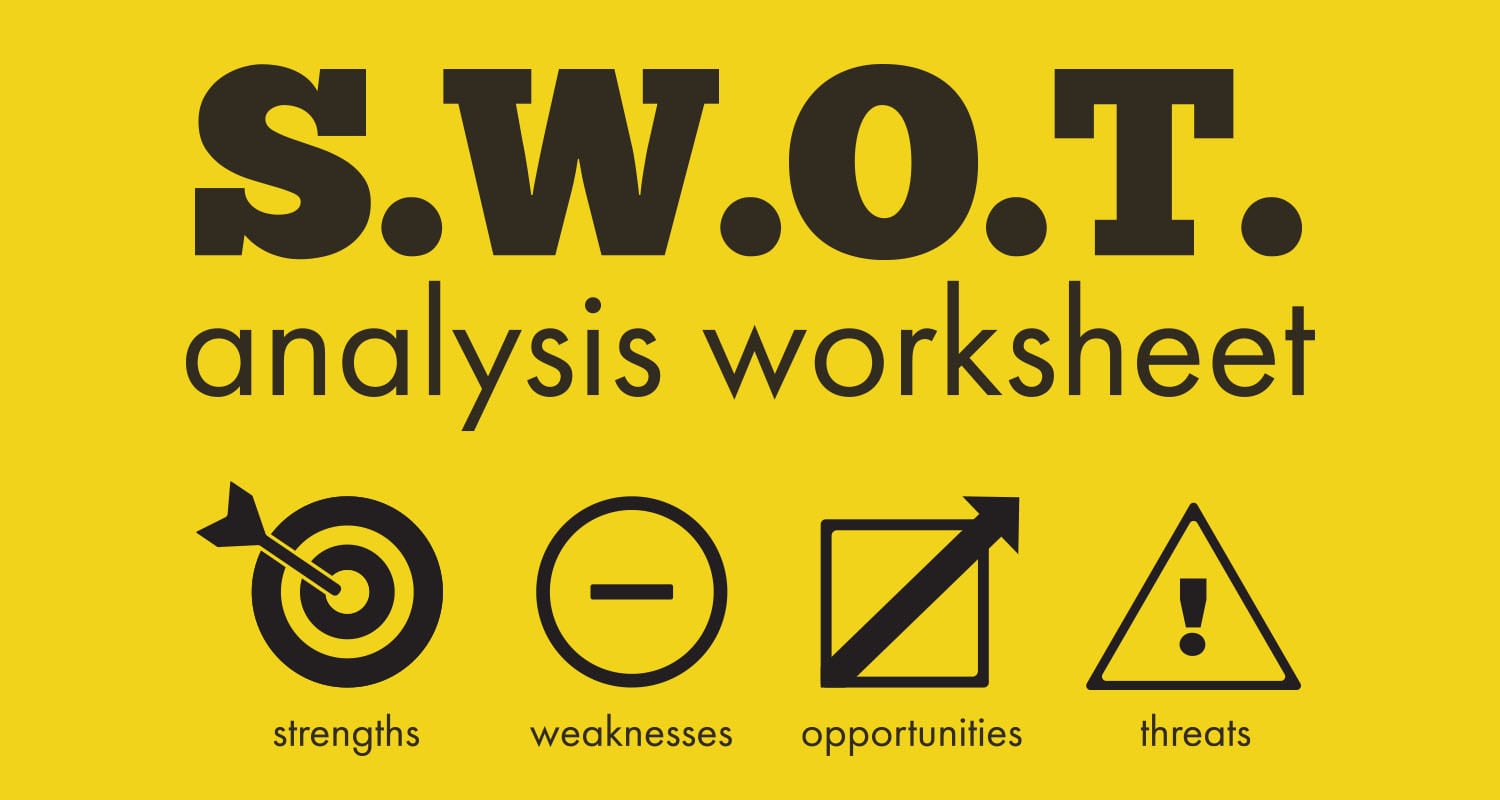 Download the free worksheet.
This worksheet shows you how to discover the strengths, weaknesses, opportunities, and threats of your business.