Welcome to Don't Do This, a series in which we show you what not to do when marketing – and explain why these specific practices won't help you connect with your audience.
Recently, it seems like each email I get from ButcherBox makes me less likely to open the next. I delete ButcherBox's emails almost immediately, not because the company is acting spammy or sending too many emails, but because there's (wait for it) no meat to ButcherBox's marketing.
Most of the emails I get from ButcherBox make me an offer. They offer two pounds of free Alaskan salmon, or an Ultimate BBQ Bundle, or holiday sales, or free bacon for life. They are sales emails that are attempting to get me to buy something, by offering added value for free – a conventional and time-tested tactic.
But if you looked at just these emails' subject lines, you'd have no idea what they're about. Many of ButcherBox's emails use one-to-two-word subject lines like "Psst," "Gone," or "No Way" that are intended to stoke a reader's curiosity – but are actually way, way too vague. I'm much more likely to open a ButcherBox email that leads with a specific subject line like "Flash Sale: July 4th Favorites" than "Psst," because when I open that first email, I know what I'm getting into.
"Psst" and the like tell me nothing – so I tend not to open the emails those vague subject lines are fronting.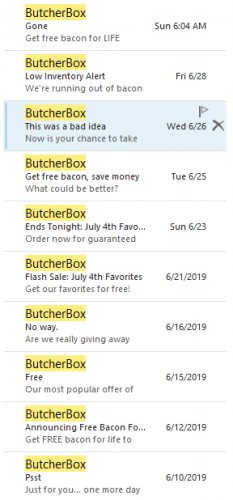 Then, Make Your Emails Sizzle
Sometimes, because marketers love examining what other marketers are doing, I do open ButcherBox's vaguely subjected/secretive sounding emails. In some of them, the company adds fun GIFs or other unique imagery that rewards me for having opened the email.
But a lot of ButcherBox's emails look nearly identical to each other, from the emails' header images right down to the shape of their body copy. The similarities are most striking within each email series – here's an example of two emails from the "Free Bacon for Life" series I've been getting for the past week or two: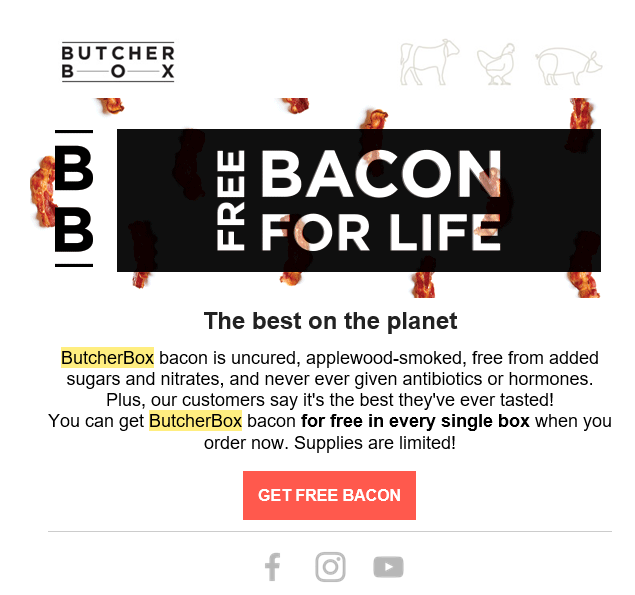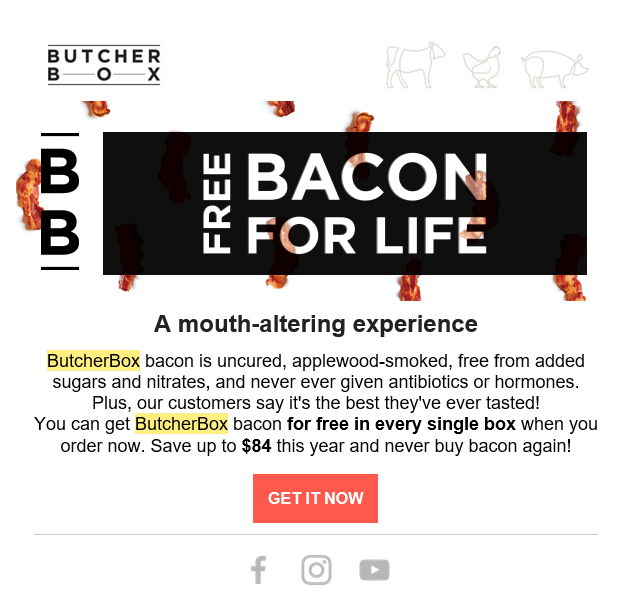 For all intents and purposes, these emails are exactly the same. Sure, the header text and final CTAs (calls-to-action) vary a bit. But if I'm skimming my inbox, the second version of this email is no more likely to grab my attention than the first.
There's nothing different or more compelling about ButcherBox's second attempt to reach me – so it's likely to have the same result. If I were revamping this email series, I'd likely:
Use a different header image within the second email.
Edit the body copy so the second email doesn't use the same opener as the first (and I'd probably speak to the customer's desires and values before talking about my product).
Break the body copy into two paragraphs, so it looks different than it did in the first email.
Consider whether I want to send the second email at all.
That fourth point is possibly the most important. The emails above are two of the nine(!) times ButcherBox has offered me free bacon for life. Some of those nine emails are unique; some of them are quite fun. But by the ninth time you've offered me anything, I've likely already made up my mind. And I'm also likely to start getting upset that you're still whispering in my ear ("Psst"), telling me about the free bacon or salmon or baby-back ribs I've already passed on eight times.
Remember, there's value to being able to reach someone's inbox. So it's okay to give your offers a rest, rather than risk losing a subscriber by repeating the same tactics. The less spammy you are, the more likely your audience is to actually read (and act) on your emails.
Bringing It All Home (Including the Bacon)
Now, I didn't write this post to knock ButcherBox (again, many of their emails are quite good). Marketing is hard, which is why all of us marketers are always examining what others are doing. We're looking to steal stuff we like and avoid the stuff we don't.
I wrote this post because I know that, without it, I'm liable to make the same mistakes that ButcherBox is making. Having written it, I'm less likely to make those mistakes. This series isn't about pointing out mistakes so much as it's about helping creatives, including ourselves, level up their game.
Hopefully, examining these ButcherBox emails will help you make your own marketing emails just a bit more specific and compelling – and ensure that your marketing efforts really bring home the bacon.