Regular email communication is STILL one of the most effective forms of digital marketing. And while you might think you don't have the bandwidth to perform email marketing, there are simple tips and strategies that can help you get started quickly. In this series, we'll explain how you can hit the ground running and send marketing emails that your audience will love …
Alright, you now know HOW to send marketing emails. You know WHO you're going to send them to. Finally, we can talk about WHAT sorts of things you'll send your audience – to increase brand awareness and/or make sales.
But before we get into specific email topics and templates, we need to establish some ground rules. In fact, we're going to lay down The Golden Rule of Email Marketing, which is:
"SEND ONLY WHAT YOU WOULD LIKE TO RECEIVE"
We all know businesses who have done email marketing wrong. Those businesses treat their audience's inboxes like dumpsters, sending any and all sorts of emails in the hopes SOMEBODY will click just one. Those businesses prefer email quantity over quality.
You don't want to be like those businesses – there's no faster way to shed subscribers from your list. As you start email marketing, you might be tempted to overdo it and send your list daily emails that offer "content" but not value. Do not send these sorts of junk emails, as it shows you take your ability to reach someone's inbox for granted.
Instead, put some care into crafting content that your audience will not only read, but be delighted to receive. Below, we'll lay out some simple rules and processes for doing just that.
How to Design Great Emails
Most beginning email marketers get lost in the weeds of email formatting and design (before even thinking about content). They think their emails need to look "unique" or visually distinct in order to capture their audience's attention.
But overdesigning your emails is a trap – one that slows down even the most sophisticated email marketers. For your first set of emails, we highly recommend just modifying a simple MailChimp template to include:
A branded header image.
A catchy title and associated image, based on your content.
Some content and an associated Call-to-Action.
You can see a simple example of what we mean below, in an email we recently sent to the Butler email list: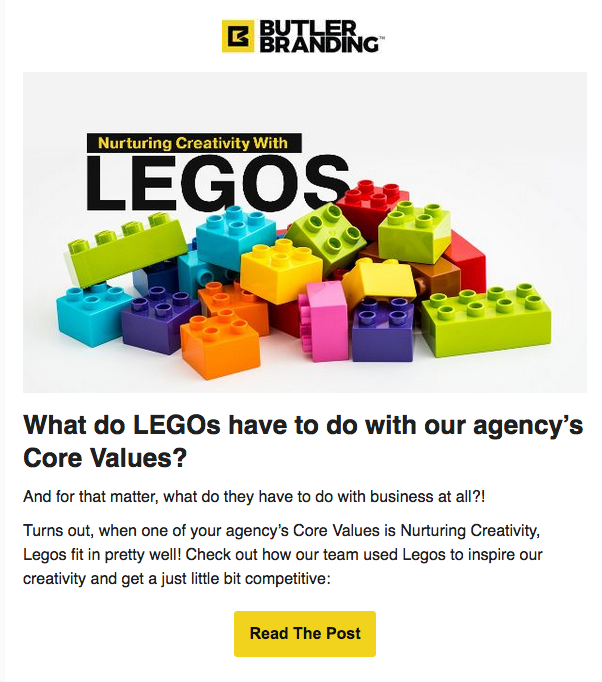 The above email was simple. It was simple to concept, simple to create, and most importantly, simple for our audience to read and take action on. And many of them did, clicking through to read our full post about LEGOs, businesses, and creativity.
Your Emails Should Be That Simple
For example, when a new subscriber signs up for your emails, they should receive a simple, auto-generated email that thanks them for signing up and tells them what sorts of emails to expect going forward: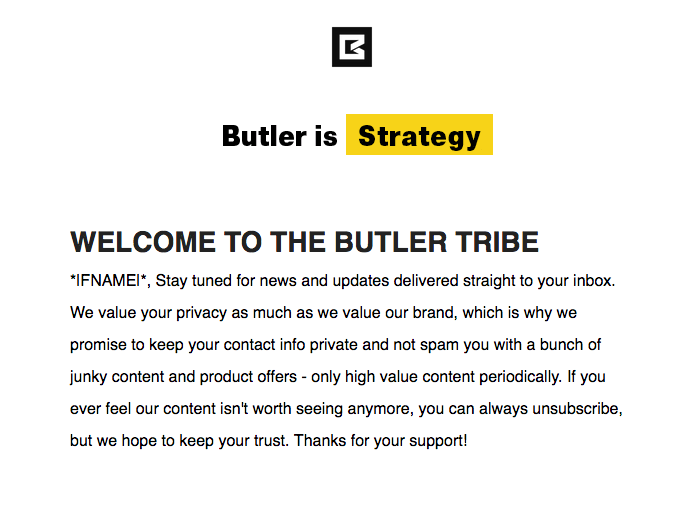 And if you're wondering how that "autoresponder" technology works … well, it involves creating simple rules within your email marketing system to make sure the right people get the right emails at the right time. Assuming you took our suggestion and started marketing with MailChimp, this linked tutorial will walk you through automations as simple and complex as:
Welcoming new subscribers to your list.
Automatically blasting out blog updates.
Sending monthly newsletters or coupons.
Wishing your followers a Happy Birthday.
So don't get hung up on design, and do let your audience know what they're in for as soon as they sign up for your list. After you've done that, you can start sending the high-quality content that your audience expects.

Your Content Shouldn't Be Complicated
Simplicity is key to not just successful email design, but successful email content. You don't need to wrack your brain thinking of unique ideas or offers to get your emails off the ground. Instead, do as MailChimp recommends and spend a few days:
Thinking of content, topics, and ideas related to your brand or business. This could be anything from "The Top 5 Ways to Identify High-Quality Real Estate" to a special, subscribers-only coupon code to a monthly newsletter highlighting your brand's efforts and achievements.
Writing out what you'd like to say on each topic.
Gathering associated images and other resources as needed.
Putting your emails together within your email marketing system (and scheduling them to send automatically when possible).
That's it! You can send basically any sort of content your audience's way, as long as you keep it simple and remember The Golden Rule of Email Marketing:
"SEND ONLY WHAT YOU WOULD LIKE TO RECEIVE"
That means sending content that is targeted, useful, and appropriate, and it means sending it on a schedule that won't overwhelm your audience.
If you're a financial institution helping customers manage stocks, you might be able to send daily email updates without annoying your amateur stock traders. But if you're a bakery sending pictures of new concoctions, once a day emails might be overkill.
If you're looking for more suggestions of what to send (or some killer email writing tips), we recommend you check out the following additional email marketing guides (from which we've borrowed some inspiration):
Can't wait to start email marketing? Get the rest of this series NOW by downloading our free "Basics of Email Marketing" e-book.