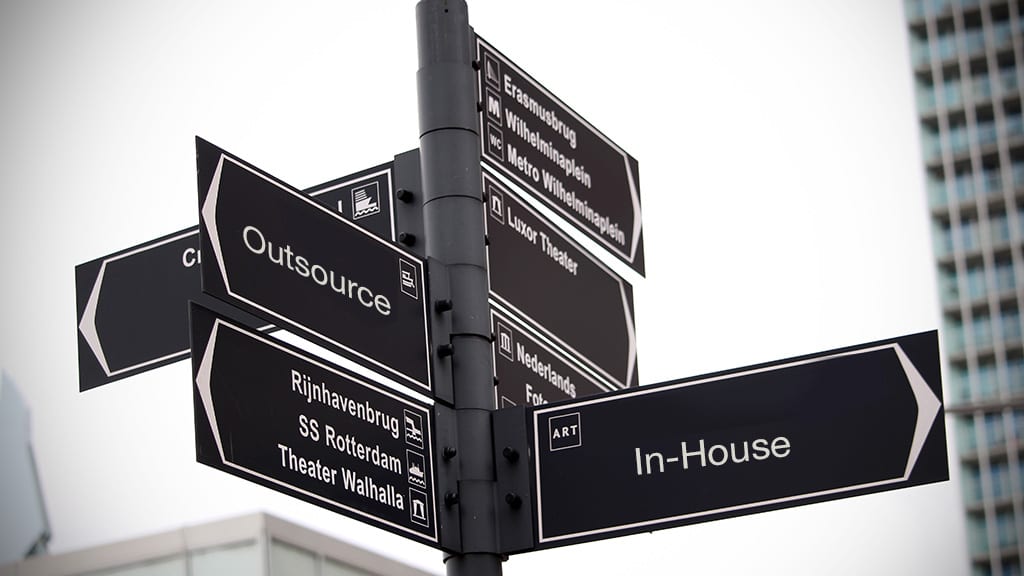 Your business is growing, and you want to sustain that momentum. To do so, you know you need to put some "Oomph!" into areas you've been neglecting – the most important of which is marketing. So you're probably asking yourself:
"Should I hire an in-house marketing team? Or should I outsource my marketing?"
We haven't always been a full stack marketing agency (Butler started in 2012 primarily as a Website and Design Agency). We've had to navigate the murky waters of marketing, especially as our agency grew. It wasn't until 2016 when we transitioned to being a full-service agency.
Since then, we've helped a number of potential clients answer this question – and we don't always tell them to work with us. There are pros and cons to both in-house and outsourced marketing. Which one's right for you depends on your budget, strategy, and ability to find a quality outside marketing firm.
Below, we'll break down the pros and cons of both in-house and outsourced marketing, telling you what to look for when considering each option.
The Pros of In-house Marketing
In-house marketing is right for some growing businesses. Some owners know exactly what they want from their marketing, have the budget to bring on full-time staff, and don't want to handle the logistics of working with outsiders. If you're that sort of owner, in-house marketing allows you to:
Maintain creative control. When you hire an out-of-house marketing team, you run the risk they'll want to market your business using a creative direction you disagree with. The team might start marketing in that direction before you realize it, or even worse, over your objections. With an in-house team, you maintain control of your business's brand, ensuring your messaging aligns with your business objectives.
Instill your team with your culture. Marketers working inside your business, alongside your other employees, will quickly internalize your culture. And they'll be able to convey that culture when marketing your brand.
Hold your team accountable. And finally, there's the accountability factor. Employees who work for you will feel compelled to not only produce quantifiable results, but to check in with status reports and results. When you hire an outside firm, you run the risk of communication lapses and unaccountability – though you can avoid that by hiring a responsive, results-oriented team.
The Cons of In-house Marketing
However, in-house marketing isn't all a bed of roses. When you decide to run your marketing in-house, you're also setting yourself up to:
Spend a lot of money … It might seem counter-intuitive, but hiring an in-house marketing team is MORE EXPENSIVE than hiring an outside firm. That's because building a successful team requires hiring at least three new full-time employees (what we call The Minimum Viable Marketing Team): a marketing director, graphic designer, and digital marketer. And that's just to get started! If you want to do more than create and promote basic content, you'll have to hire more people.
… especially if you want to do multi-discipline marketing. You can absolutely spin up a basic marketing team with just three new employees. But if you want to take your own photos, shoot your own video, integrate your marketing materials into your website, or do any of the COUNTLESS other tasks associated with successful marketing, you'll have to either a) hire more team members or b) outsource those tasks anyway.
Expose yourself to marketing liability. Good marketing teams jump through a lot of legal hoops to ensure they're advertising within the bounds of the law. The most recent regulation, which you might've heard of, is called GDPR; it sets guidelines for how marketing agencies can utilize audiences' personal data. If you hire an in-house team, they're going to have to read up on these kinds of regulations, so you don't get hit with fines.
Incur the liability of employees. Employees not only cost more money than outsourcing, they also come with liability. Many companies like to avoid the added liability of more employees by outsourcing the aspects of their business that are not their core-competency.
The Pros of Outsourced Marketing
So what recommends outsourced marketing? There are a few considerations that might lead you to hire an out-of-house team, as outsourcing will:
Save you money. We stressed this point above, but it's important enough that we're stressing it again. For the price of just one full-time employee's monthly salary, you can typically retain ~40 hours' worth of services from a marketing firm. And remember, you're going to have to hire at least THREE employees to market in-house successfully. If you don't need more than 120 hours of marketing work done each month, you should consider hiring an out-of-house team.
Give you access to robust marketing resources. Not only is hiring an out-of-house team likely cheaper than marketing in-house, you'll likely GET MORE MARKETING DONE. That's because dedicated marketing teams specialize: giving design tasks to designers, digital marketing tasks to digital marketers, video tasks to videographers, and so on. Marketing firms know how to market quickly and well, because marketing is all they do.
Protect you from marketing-related liability. And finally, outsourcing your marketing protects you from some of that legal liability we talked about above. Because marketing firms market for a living, they keep current with the latest regulations and marketing law landscape. Additionally, because the firm is marketing for you, you erect a barrier between yourself and the penalties assessed for breaking marketing law.
The Cons of Outsourced Marketing
The above isn't to say that out-of-house marketing is absolutely right for you. Some business owners can't find the right team to work with, and a bad out-of-house marketing team might:
Not hold themselves accountable. Lots of marketing firms will happily spend your money without showing you any results. When you meet with an outsourced firm, you need to ask them what marketing metrics they measure, how they report on those metrics, and whether they've met their goals with other clients. If a firm can't answer those questions, you don't want to work with them.
Not connect with your brand or culture. Sometimes, even a successful marketing firm just isn't the right fit for your business. And while an in-house team will likely learn your brand and culture over time, as they work alongside your other employees, an out-of-house team might not ever "get it." If you outsource your marketing, you need to make sure you find a firm that understands who you are and what you do.
Pigeonhole your marketing efforts. Some marketing firms know one aspect of marketing incredibly well – so well that it's the only aspect they focus on. You'll want to avoid these sorts of firms. Marketing just through Facebook, or Google Ads, or email campaigns isn't going to get your business far. Instead, you'll want to find a firm that understands all aspects of both digital and physical marketing, and can create a strategy that spreads your message across a variety of channels.
"So which is right for me?"
If you have the money to invest in creating a well-rounded marketing team from scratch, in-house marketing might be right for you. Just remember, at a minimum, you're looking at hiring a marketing director, graphic designer, and digital marketer to ensure your marketing succeeds. And you're also looking at outsourcing additional tasks.
If you don't have the money to hire those employees, or you don't want to handle the logistics of marketing law and communicating with freelancers, we recommend outsourcing your marketing. Just remember, when you outsource, you want to make sure you hire a firm that will:
Hold themselves accountable.
Exemplify your culture and brand.
Reach your audience across a variety of channels, using a variety of disciplines.
Of course, at Butler, we like to think we do all of those things! So if you've read this post and think outsourced marketing might be right for you, don't hesitate to drop us a line.