Boosted rankings for ``mobile-friendly`` pages improves user experience.
On April 21st Google made a change to their algorithms that affects mobile search-engine rankings by making "mobile-friendliness" a ranking signal.  The change was made in order to provide the optimal user experience for those searching from a mobile device.  Now, when someone does a search from a mobile device, Google will boost the rankings of pages that are mobile-friendly, and lower the rankings of those that are not.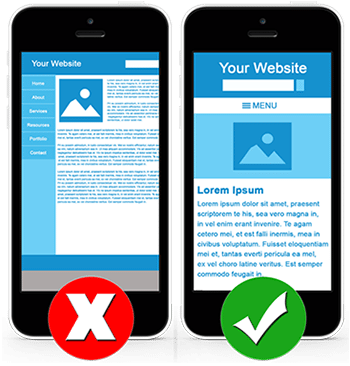 What does this mean for your website and search results?
Here are a few things to keep in mind:
Only search rankings on mobile devices are affected by this change.
The update has no effect on searches from tablets or desktops.
This is a page-level mobile ranking boost.
Each page of a website will be assessed for "mobile-friendliness" separately. If some of your site's pages are mobile friendly, they can be positively impacted by the change. While those that are not, could be negatively impacted.
Search results in all languages globally are affected.
How do I know if my site is mobile friendly?
If you are not sure whether or not Google indexes your website as "mobile-friendly" or not, there are a couple different ways to find out.  Keep in mind that all pages of a site are assessed individually, so some pages could be "mobile friendly", while others may not.
Use Google's "Mobile-Friendly Testing Tool"
The tool will give you a yes or no answer as to whether or not the pages on your website are considered "mobile-friendly".  However, it may still take some time for Google to index a site correctly.  If the tool determines a page is mobile-friendly, it is possible you may not see the "mobile-friendly" label in search results immediately. In this situation, you do have the option of asking Google to re-crawl your URL's. This option may speed up the process of indexing your site correctly.
Click here to learn more about asking Google to re-crawl your URL's.
See if your site has the "Mobile-Friendly" label in mobile search results.
From a mobile device, simply do a Google search for your website.  When looking at the results, if the page is considered mobile-friendly, you will see a "mobile-friendly" label right there in the search results.  If you don't see this label, you can submit your URL's to be re-indexed by Google, or wait for Google to re-crawl your website.
Need a mobile-friendly website?
If you need to make a change so that your website will be mobile-friendly, you have a couple of options.
Seperate Mobile Website
Mobile websites are fairly simple to develop, and usually have a lower upfront cost. The benefit of a mobile site is that they allow you to optimize the site for mobile usage.  These sites may have less content or unique features that work well on mobile devices.
Responsive Website
With a responsive website, the content(images and text) will automatically adjust according to the size of the screen it is viewed on, providing the optimal user experience on any device.  Responsive sites may have higher upfront cost and are more difficult to develop, but they require less future maintenance and will be more cost-effective over time.